Talkph.net is celebrating it's first Anniversary. And you are invited to join the fun by joining a contest.

TP's First Anniversary Contest

It is an honor to strive and do our best, to give joy and bring out smiles in each and every member of the family, our TP family.
Prizes:
1 month adspace from each blogs:
fedhz.com, earningonline.fedhz.com, journal.mikemamaril.com, redismarose.com and redamethyst.blogspot.com




Valid entries are posts made beginning February 18, 2010 until March 30, 2010. At the end of March 30, 2010, we will tally the points. Announcement of Winners will be on April 07, 2010.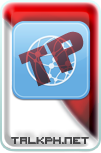 Read more:
http://www.talkph.net/index.php?topic=4047.0#ixzz0izllc3XD